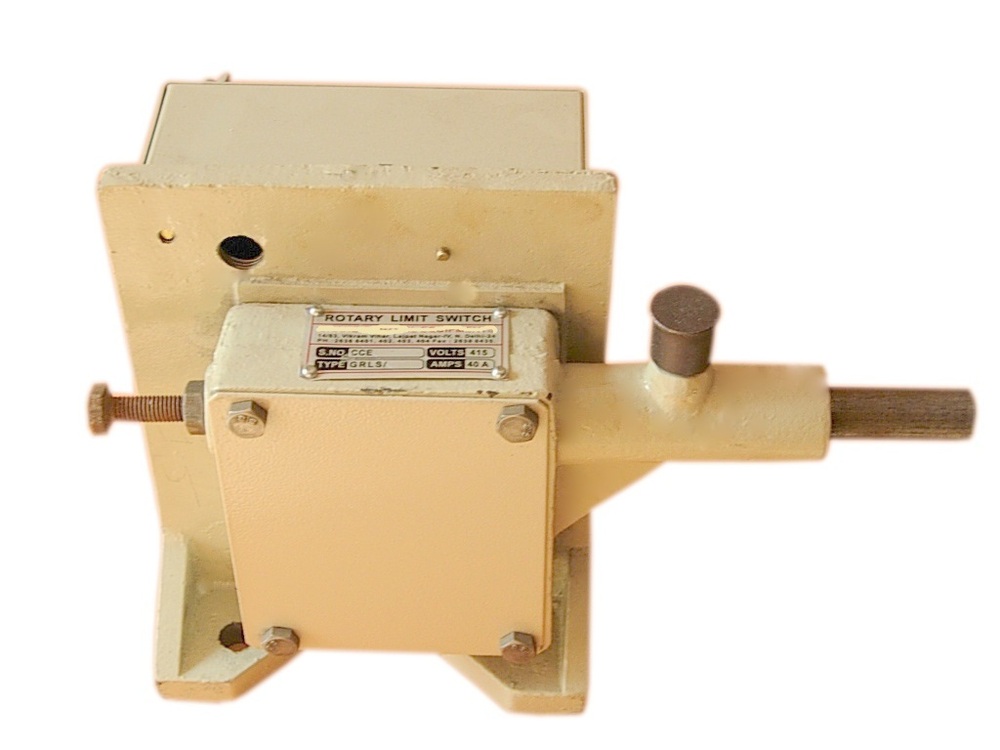 Rotary Gear Limit Switch Cast Iron Body
Product Description
Established in the year 1988, we are a well-known organization in the domain of manufacturing and exporting Hoist Limit Switch. We have a team of quality acumen to monitor and improve our existing products to meet the needs of the clients. These products are used as a safety device in cranes, hoists, rolling mills and various other reversing drives to trip power supply of the hoist travel in a predetermined range of work zone. With our vast network of C&F agents, we are capable of delivering Hoist Limit Switch in a committed time frame.
Features:
Longer functional life
High mechanical strength
Easy to fit
Additional Information:
Rotary Limit Switch
We offer rotary limit switches that are used on control and power circuit of reversing drives so as to limit their rotation within a predetermined position. The function of our rotary limit switch is to stop the mechanism or drive at the extreme forward or reverse position. These limit switches are particularly suited for use on reversing drives such as hoist, winches, rolling mechanisms used in steel plants such as coke ovens, feeding machinery, valve drives etc. Our rotary limit switch basically consists of heavy duty worm gear drive with a ratio of 48:1 or 60:1. and this worm gear unit is built in a sturdy cast aluminium housing which is fitted on the main body of our limit switch, covered with dust tight gasket in cast aluminium enclosure. It comes with with cast aluminium cover to protect it against dust and dirt. We Can Provide Rotary Geared Limit Switches in 48, 60 as well as 96 Ratio.
Introduction
Rotary Geared Limit Switch GRLS is used to trip supply when the moving loads reach the extreme end positions of working zone.
Operation
A two (for more) Contact Elements are operated by respective rotating Cams, suitable adjusted on a Cam Shaft which rotates with fixed speed ratio of the drive motor shaft. The cams can be suitably positioned so that they trip motor supply and stop the motion at the required point of travel.
Application
Rotary Geared limit Switches are suitable for use on reversing drives such as Hoists, Winces, Rolling Mills and various other mechanisms used in Steel Plants such as Coke Oven, Feeding
| Body Material | MS Sheet (Powder Coated) |
| --- | --- |
| | |
| --- | --- |
| Protection Degree | IP-41 Confirming To IS-13947(Part)-1)1993 |
| Gear Tatio | 48:1 60:1 96:1 |
| Drive | Worm Conduct |
| Cable Entries | 2 X 3/4 Conduct |
| Contact Material | Silver Cadmium |
| Rated Voltage Insulation | 500 V.A.C. |
| Thermal Test Current | 10 Amps. / 40 Amps. |
| No. Of Contact | 2 NC OR 4 NC |
| Cam Setting | Adjustable |
Contact Us
B-249, Okhla Industrial Area, Phase - I, New Delhi, Delhi, 110020, India
Phone :+918037265726