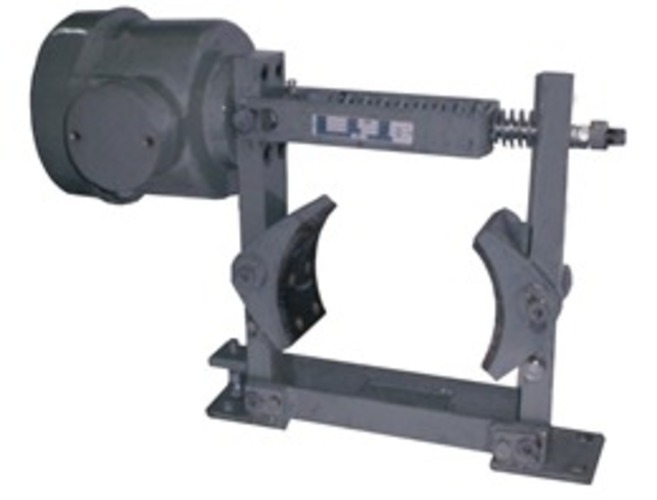 D C Electro Magnetic Brakes
Product Description
INTRODUCTION
Mill duty D.C. Electro-Magnetic Brakes are suitable for 220 Volts D.C. supply and are available for a drum diameters from 100mm to 800mm D.C. Electro-Magnetic brakes are used to retard or to stop moving loads or rotating masses and to prevent damage to men and equipments.

FEATURES

Robust construction and simple design.
Reliable braking action.
Efficient transmission of forces.
Brakes shoes replacement without dismounting.
Ease of maintenance.
Ease of torque adjustment.
AIR GAP
The brake is released by powerful, short stoke electromagnet. The gap between the coil and the armature is to be maintained to about 0.3 mm. Brake coil is encapsulated with epoxy resin and is 'Class F' insulation.

TECHNICAL DATA

Class of insulation of coil-'F'
Maximum operative voltage-660V
Rated supply-220V, D.C.
SELECTION OF BRAKE SIZE
Brake torque of 180 to 250% of motor rated torque is sufficient for normal applications like Cranes, Hoists and other material handling equipments , For CT and LT drives , braking torque of 180 to 150% of motor rated torque will ensure braking without excessive noise and mechanical jerk.
Rated motor torque is given by
Mb= T = 716.2 x HP OR 975 x KW

Where , KW or HP is motor rated power and RPM is motor rated speed in revolutions per minute.
INTRODUCTION
The coils of DC Electromagnetic brakes need DC supply for operation. DC rectifier panel converts AC mains supply to DC output supply. Typical application examples are E.O.T. Cranes, conveyors, rolling mills etc.
Rectifier Panels are supplied with different combinations and can be offered for feeding single or multiple brake coils.

THE STANDARD PANELS

The standard Panels can be offered for
Single Brake operated individually. or
Two Brakes operated individually, or,
Two Brakes operated simultaneously.
CONSTRUCTION
Brake Rectifier Panel is a fabricated sheet enclosure and has two sections, the top compartment is for resistor assembly and bottom for controlling switch gear items like contractors, rectifier bridges etc. The unit is designed for floor mounting. High quality rectifier has sufficient capacity to sustain over-voltage and current transients. Wound Resistors have Nichrome / Eureka wires. The Contractors and Timers are of suitable ratings and are from reputed manufacturers.

DEGREE OF PROTECTION
The standard enclosure for rectifier unit conforms to IP-54 degree of protection as per IS : 13947 (Part I ) - 1993.
The Resistor unit is IP 23.

FINISHING
Sheet steel enclosures are given metal treatment process for de-rusting. de-greasing, and phosphating prior to two coats of synthetic enamel paint.

VOLTAGE RATING
Input - 415V AC Output - 220V DC (With economic resistor) Control Voltage - 110V, 220V, 240V, 415V AC.
| | | |
| --- | --- | --- |
| Brake Size | Drum Dia (mm) | Brake Torque (Kg-m) |
| DM 100 | 100 | 1.6 |
| DM 150 | 150 | 10.0 |
| DM 160 | 160 | 10.0 |
| DM 200 | 200 | 12.5 |
| DM 250 | 250 | 35 |
| DM 300 | 300 | 50 |
| DM 315 | 315 | 50 |
| DM 400 | 400 | 120 |
| DM 500 | 500 | 190 |
| DM 600 | 600 | 355 |
| DM 700 | 700 | 575 |
| DM 800 | 800 | 910 |
Contact Us
B-249, Okhla Industrial Area, Phase - I, New Delhi, Delhi, 110020, India
Phone :+918037265726