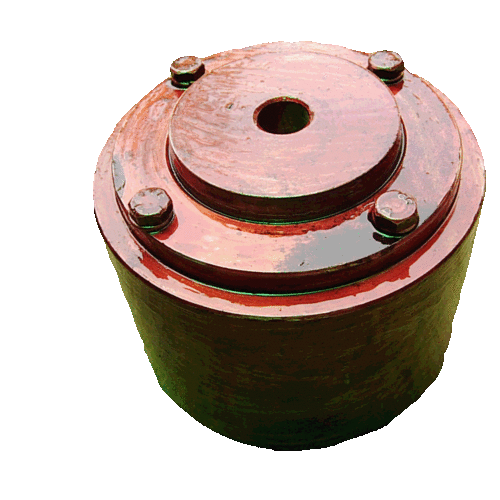 Break Drum Coupling
Product Description
Backed by our diligent professionals, we are able to manufacture and export Brake Drum Coupling. These products are available in various specifications to meet the requirements of our valuable clients. Our products are made using the best quality material and monitored by the experts in order to ensure proper functioning. These products are highly demanded by the patrons for their optimum performance, precise design and low maintenance. Brake Drum Coupling are delivered to the clients in a given time period, owing to our team of skilled C&F agents.

Features:

Lightweight
Robust construction
Excellent finish
Accurate dimensions
Other Details:
Flexible Geared Coupling.
Crane Control Equipments make Flexible Geared Couplings offer positive and reliable power transmission and are suited for varied applications.
These Flexible Geared Couplings are incorporated for over coming the following types of misalignments in a Drive :
[a] PARALLEL OFF SET - Where the Axis of the connected Shafts are
parallel but not within the same straight line
[b] ANGULAR - Where the Axis of the connected Shafts
intersect at the center of the Coupling.
[c] COMBINED ANGULAR - Where the offset Axis of the connected
Shafts are neither parallel nor do they
Intersect.
It is generally observed that even with the most exacting precision in the original installation, subsequent misalignment can rarely be avoided as over a period of time, foundations may settle, bearings ultimately wear and dimensions change with temperature.
The misalignment also takes place due to vibrations
These Flexible Geared Couplings are available in two configurations " Full Geared and Half Geared Half Rigid.
Half Geared Half Rigid Coupling :
In case of these type of Couplings instead of two identical halves one half is geared and the other half is rigid.
There is a single Hub in this type of Coupling since the other side is rigid.
This type of Coupling is used for taking care of only Angular misalignment.
The Hub of our Couplings are machined from EN-9 Steel Forging to close tolerances for an accurate alignment and proper balance.
Full Geared Coupling :
In this type of Coupling both the halves of the Coupling are identical and consists of two Hubs and Two outer Flanges Sleeves bolted together.
This type of Coupling is capable of accommodating both Offset as well as Angular misalignment.
The compensating member of the Coupling consists of a Sleeve having two internal Gears engaging with mating external Gears on separate Hubs which mount on the Shafts.
The Flange Sleeves are bolted by hexagonal headed machined bolts.
The Sleeves of a particular size of Coupling are interchangeable for easy replacement.
Normally the Couplings both Half Geared as well as Full Geared are supplied in pilot bore condition, how ever on request we also supply these Couplings in finish bore conditions with Key way.
Contact Us
B-249, Okhla Industrial Area, Phase - I, New Delhi, Delhi, 110020, India
Phone :+918037265726