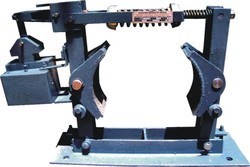 AC Electromagnetic Brakes
Product Description
AC Electromagnetic Brakes
Crane Control Equipments makes AC Electromagnetic Brakes that are suitable for AC supply up to 400 to 440 volts, and are available for a wide range of Drum sizes from 10mm to 380mm Dia. We stand in the midst of prominent Electromagnetic Brakes Suppliers based in India.

Our Heavy Duty AC Electromagnetic Brakes are available with a rated torque ranging from 200 Kg cm for the smallest brake (100mm Dia) up to 6900 kg cm for a 380mm dia at 50% coil rating i.e. the coil remains in circuit for a maximum of 5 min out of every 10 min.

These brakes are conventionally termed as single phase EM Brakes although they are to be operated on 2 phase.

3 Phase Brake are also available where a higher torque is desired.

Since these brakes are in normally closed position, the release of the Brake shoes is affected by energizing the Electro Magnetic coil, which overcomes the spring force and the shoes are moved clear off the drum by lever/arm linkage system so that the drum is free to rotate without any friction.

When the power in given to the Electro Magnetic coil the coil gets energized and in turn pulls the plunger down. The plunger in turn operates the arm of the brakes and the brake opens.

The design of the brake is such that as the lining keeps wearing out due to normal operation of the brake, adjusts itself on its own to achieve the rated toque. When specified, brake drum or drum coupling both pin bush type and flexible geared type can be supplied along with the brakes.
INTRODUCTION
A.C. Drum Brakes are suitable for signal phase A.C. supply up to 440V and are available for drum diameters of 100 mm to 375 mm and Braking Torques up to 69 kg-m.

CONSTRUCTION AND WORKING :
The shoes are of graded cast iron. Other components are of fabricated steel. The lever is hinged on the main arm. which is connected to the side arm through a tie rod, and is stressed by a pre-loaded compression spring. The compression of the spring can be adjusted to set the braking torque to desired value. The brake liners are of selected quality material and are riveted to the shoes by aluminum rivets.

A.C. solenoid with laminated magnetic sheet steel houses a copper magnetizing coil which is impregnated with Class F materials. The plunger which is connected to the lever, is drawn in to the coil, when it is energized with AC source. This loads the spring and release the brakes shoes from the brake drum. When the supply is cut off, the plunger is pulled out of the coil, and spring force clamps the brake shoes on the brake drum and the brake is applied.

FEATURES :

The brake is Fail-safe. The brake is applied in absence of A.C. Current and is released when the supply is restored.
High quality brake lining material ensures consistent braking torque and reliable operation.
Clean environment working and less noise.
Braking torque can be adjusted easily and quickly.
Ease of maintenance.
SELECTION OF BRAKE SIZE

Brake torque of 180 to 250% of motor rated torque is sufficient for
normal applications like Cranes, Hoists and other material
handling equipments , For CT and LT drives , braking torque of
180 to 150% of motor rated torque will ensure braking without
excessive noise and mechanical jerk.
Rated Motor Torque is given by

T = 716.2 x HP OR 975 x KW

Where , KW or HP is motor rated power and RPM is motor rated speed in revolutions per minute.

Notes

Brake type EMS 4 denotes A.C. single phase 4' drum diameter ( inch/ series )
Brake type EMS 100 denotes A.C. single phase 100 mm drum diameter ( metric series )

Brakes are made to suit the required Drum Diameter.

Coils are rated for operation on single phase, 400/ 440V, 50 cycles,

Coils can be supplies with 'class B' insulation.
Coil for higher ambient temperature upto 60˚c can be offered on Request,

Tolerance on indicated dimensions is± 2mm.

Higher braking torque can be adjusted for reduced CDF Duty.
Contact Us
B-249, Okhla Industrial Area, Phase - I, New Delhi, Delhi, 110020, India
Phone :+918037265726